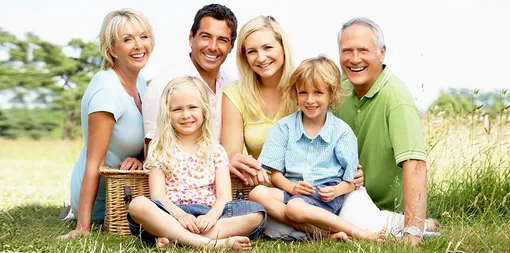 Our office provides family care for everyone from newborn babies to 100-year-old seniors and everyone in between. The gentle effective chiropractic care can help ensure that everyone in your family has a healthier spine and nervous system so they can function at higher level of health for a lifetime. Request an appointment for yourself or your entire family today.
The Importance of Family Chiropractic
Never underestimate the importance of your musculoskeletal health! We offer gentle, family chiropractic care suitable for all patients, from newborns to centenarians because we believe that everyone can benefit from a healthier spine and central nervous system.
Our hands-on and instrument-assisted therapies can make all the difference when you are at your wit's end or need complete family care solutions encompassing multiple aspects of your health as an alternative to traditional healthcare or providing additional support.
Choosing Your Family Chiropractor
When you are looking for a family chiropractor, you need someone experienced in traditional and gentle chiropractic care. Word-of-mouth is often an invaluable way to find the right chiropractor. But, when you are looking for a chiropractor for your children, it is also worthwhile reviewing their qualifications and experience.
Dr. Werner at Werner Family Chiropractic serving the Rock Hill, SC, area, has been providing chiropractic care to her community since 2005 and is a member of the International Chiropractic Pediatric Association. Additionally, Dr. Werner is Webster technique-certified, which means she can help with a safer and more comfortable birth for expectant mothers by optimizing their physiological function.
Chiropractic care can have a positive impact on your infant or child after a complete assessment to see how we can help improve your children's health where needed.
Our Chiropractic Services
Dr. Werner offers a comprehensive range of services including:
Spinal adjustments and manipulation
Prenatal and pediatric chiropractic
Nutrition
Electrical stimulation therapies
Therapeutic exercise
Our chiropractor is competent in the Webster, Cox, Flexion/Distraction, and Activator method Techniques. This means Dr. Werner and her team can offer effective treatments for:
Personal, sports, or auto injuries
Degenerative disease support
General chiropractic conditions
Back, neck, and shoulder pain
Migraines
Colic and digestive issues in infants and children
Pregnancy discomfort
Subluxations
Athletic performance conditioning
We proudly serve our local community and support Tri-County Girls on the Run.
3 Benefits of Family Chiropractic
The benefits of chiropractic care are innumerable, but the three main reasons why you should visit your family chiropractor are:
Natural and holistic solutions
Improved quality of life and range of motion
Pain relief for patients, which supports better mental and physical health.
Your First Choice for Family Chiropractic!
Dr. Werner and her team at Werner Family Chiropractic, serving Rock Hill, SC, provide superior family chiropractic suitable for every member of your family. For appointments, call us today at 803-329-6361.